#31 Top Blog Post Ideas for Spread Your Business
by Shweta Patel
---
---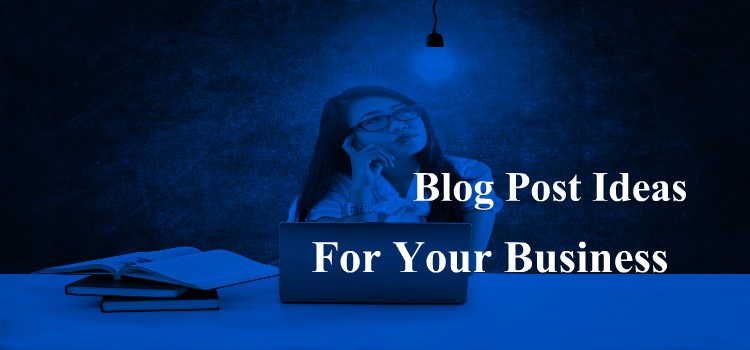 ---
When you have a business blog, you know that sometimes the things you have to say or explain aren't always the most enjoyable topics for your audience to read about.
But, as a business owner or marketer, you know how important it is to have a blog as a marketing tool.
According to HubSpot's report:
A blog can influence a reader's decision to purchase.

Companies with blogs have 55% more visitors than those without blogs.

Blogs are part of the inbound marketing process, helping businesses attract and convert readers.
So, you can see that having a blog for your business helps you convert readers, grow a following, and build your brand.
But, if your business or product isn't a sexy topic, how can you make it look like you've got a happening blog?
In this post, I've laid out 31 blog post ideas to help you liven up your business blog. Most of these ideas also have examples of blog posts from other companies or entrepreneurs to give you some inspiration for your blog.
1. Current trends
People love to learn what the current trend is this week. Whether they're on Twitter looking at what's trending or reading a post on the latest happenings in their industry, a current trend blog post is an easy addition to your content schedule.
While you can look at what's hot now, a great way to use this idea is to predict what the trends will be in the future. For example, Advance Idea Infotech looked at SEO IN 2019: Top SEO Future Trends keep an Eye Out.
2. Report current news in your industry
Depending on your business, there could be breaking news in your industry that might alarm or cause questions from your audience.
This is none truer than when Google announced their new mobile-friendly rules for popups to the masses. Since OptinMonster's business revolves around lead capture and popups, there were some concerns from their customers.
The owner, Syed Balkhi, wrote a post on the blog on how this news affects OptinMonster.
3. Post a case study
Case studies are a great way to show how valuable your product or service is. They may be even more powerful than a testimonial since they show a real person having success with your product or service.
Search engine land helps you run marketing campaigns through social contests, sweepstakes, and giveaways. They feature case studies on their blog of how using their service can help businesses reach their goals.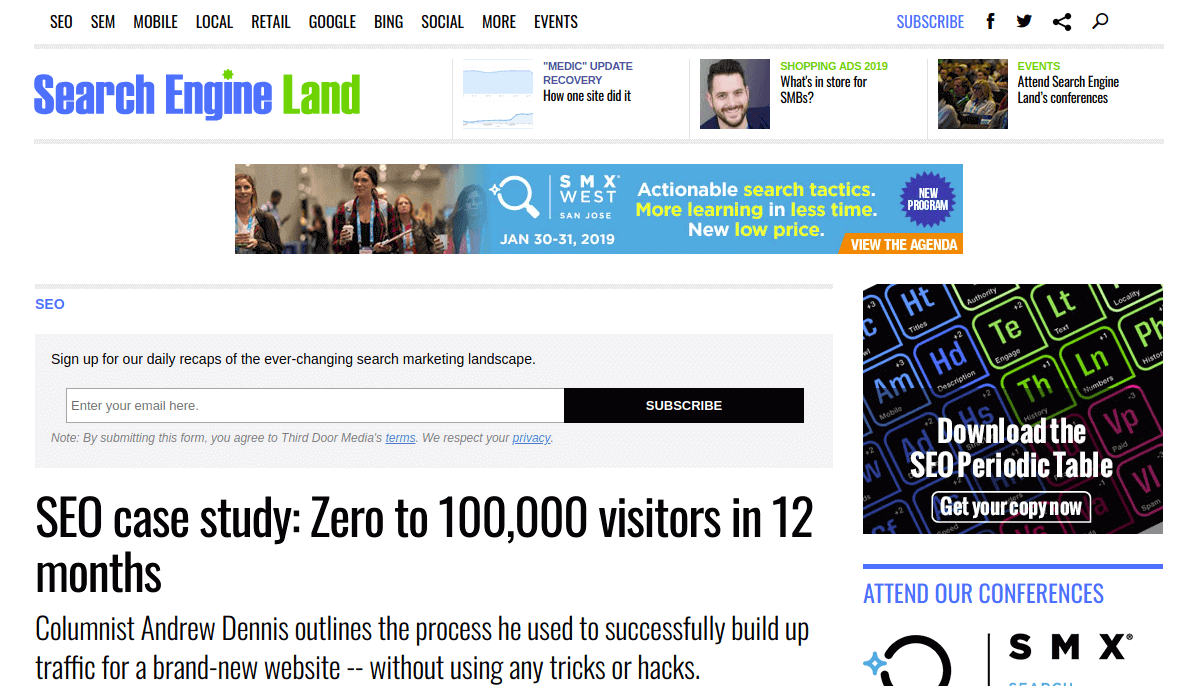 4. Interview someone
Know any celebrities or people who have great stories behind their work/life/career? Interviews are extremely popular in two cases: a) you deliver an interview with a famous person who rarely speaks in public or b) your shares rally insanely useful and practical tips and content.
5. Post a cool infographic
Infographics help to visualize complicated data, and they're hugely popular these days as blog content ideas. As always, when something becomes mainstream, the overall quality is poor. So, if you're not a designer, hire one to get a viral infographic that stands out from the crowd.
6. Write inspirational / motivational post with famous quotes
People need little kicks to get going and get things done. Big things start from small ones, and motivational blog posts can do miracles. Here's one of the best quotes from Steve Jobs: "Your time is limited, so don't waste it living someone else´s life." Here are some tips for using quotes in your posts.
7. Point out common mistakes
People love mistakes. Not making them, but reading about them. In fact, the click-through rate for negative superlatives in your headline is 63% higher than headlines that use positive superlatives.
As an example, Hootsuite has a blog post on what social media marketers are getting wrong about SEO.
Warning
Note: Be careful with injecting too much negativity into your headlines.
Sure, being more negative can often translate into more traffic. After all, more traffic is what we want, right?!
But the truth is that too much negativity, when it's not needed, means venturing into click-bait territory.
A good example are those 'SEO is dead' type blog posts – they paint a bleak picture that just isn't true.
So, the key is to ensure that you avoid making your readers think: 'wow, that's 5 or so minutes I'll never get back…' – that only serves as a way of losing trust with your audience.
8. Write a how-to post
One of the most popular types of blog posts is a how-to. Why? Because people search online for answers to their problems. And a how-to post can provide those answers.
It also lets readers know that it's a specific post that will dive into one thing. For example, on the Advance Idea Infotech blog, they have a post about How To Engage Your Target Audience.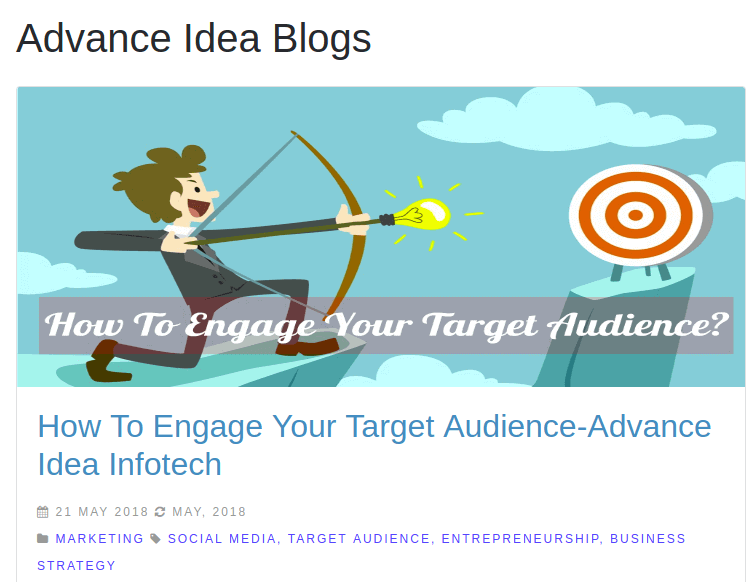 This post is a comprehensive step-by-step guide on how to target your audience.
9. How customers use your product
People, generally, are nosey. We like to know what other people are doing or thinking. So, why not satisfy their curiosity on your blog? Report on your blog how customers use your product in their life.
Google always write in support for their every new tools, features and for thier product. Get started with Analytics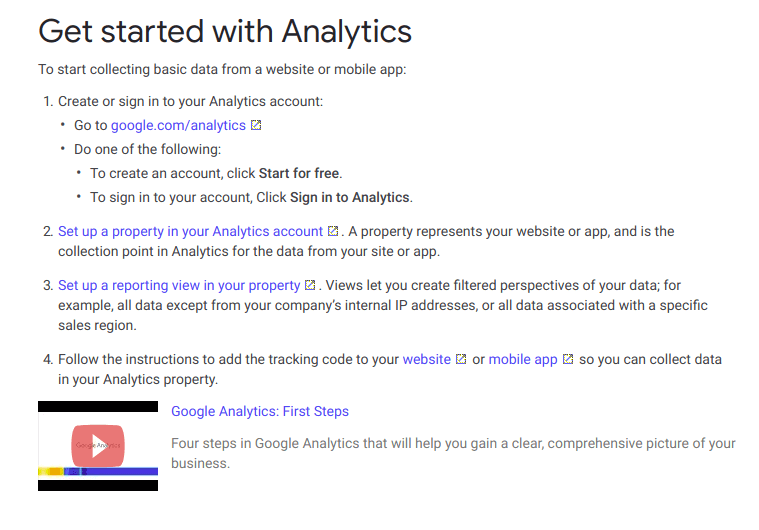 They show how people use their product, which helps highlight a lot of little things about the product that may not have been mentioned in detail before.
10. Reports about your product
If you knew that your product was #1 or in the top 10, wouldn't you want to scream it to everyone at the top of your lungs? Well, since you can't do that online, the next best thing is to blog about it!
11.Create a list of something
People are lazy. They don't want to waste time on searching and gathering information. That's the reason why lists are popular blog topics. Create a TOP10, or better yet, a TOP100 list. Lists of movies, books, influential people, or any other topic can easily generate buzz.
12. Highlight customer stories
Another way to humanize your brand is to show customer stories on your blog. Feature one customer and have your audience get to know them.
For example, FreshBooks, a small business cloud accounting software, has long featured customer stories on their blog.
13. Tell the history of your field
A popular idea for business blogs is to do a series about the history of your industry or aspects of it. This helps your readers appreciate how far your industry has truly come.
It's also another way to liven up your blog if your business is somewhat boring. For example, Timesheets.com is a cloud-based expense tracking, scheduling, and timesheets software.
Trying to write a blog post about that topic might be hard, but Timesheets.com has a long-standing blog since 2009. And one post they did was the history of timekeeping.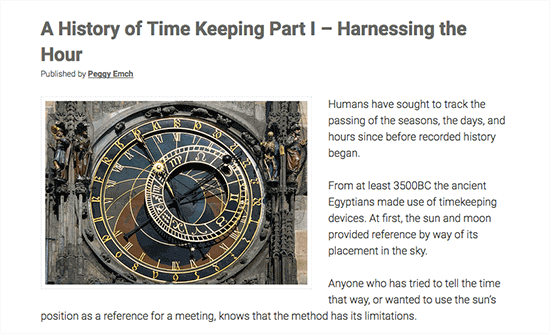 14. Host a quiz
A great way to make your blog more engaging and interactive is to host a quiz. Quizzes can also reveal information about your readers and customers, helping you adapt your product or service for your ideal customer.
On Grammarly's blog, they frequently have fun quizzes like this one about Quiz: How Good Are You with Job Interviews? .
You can use quiz plugin to create your own 'viral' type quizzes.
15. Write a post in response to some recent post/news
In other words, become an opinion blogger or analyst. When you manage to write high-level content on hot topics, your blog can be featured on major newspapers and websites.
16. List things to avoid
A great business blog helps readers with their problems and challenges. They understand their target market has additional desires and problems that their product or service may not help. But, that's okay, because if you can help your audience, they will forever be grateful and much more likely to become brand ambassadors.
Contently, posted When to Use Emojis (and When to Avoid Them), their audience and providing valuable information.
17. Make a full case study about something
We covered tutorials already, but case studies reveal what you've done, how you've done it, and what the results are. These can be interesting blog topic ideas. This is extremely interesting for many folks, especially for me.
18. Share your favorite blogs/bloggers in one post
It's a bit similar to "Make a list" idea, but sharing the blogs and bloggers you follow is never a bad blog post idea. Give the resources to your readers; believe me, they are grateful and won't stop following you.
19. Run a survey and list the results
Another way to get interactive with your audience is to survey them. Ask your subscribers to do a quick survey and let them know that you'll publish their collective results on the blog.
This helps you get some indication of how your audience is using your product. Peel – a smart remote app – ran a survey last year and realized that their customers are just warming up to the idea of smart technology, which may or may not have impacted how they approached their marketing strategy.
20. Answer frequently asked questions
As a blogger, entrepreneur, or marketer, I'm sure your inbox is flooded with emails from your followers asking questions. Instead of answering one at a time, why not pool the questions and create a blog series?
Harsh Agrawal of ShoutMeLoud used this idea and created a blog post answering a list of questions from his readers.

21. Invite your readers to submit guest posts
Are you struggling with blog topic ideas or have to leave for some time? Ask people to write guest posts. It's a win-win situation; you get the content, and they can build up their name or brand.
22. Thank your customers
A great way to thank your customers is to blog about it. Without them your product or service might not exist, right?
Keith, developer of the writer software, Scrivener, thanked Scrivener users on his blog saying,
"[W]e've been blown away by our fantastic users. We have had numerous users on our forums helping other users out, helping them get set up. We have had countless users on Twitter, Facebook and our forums telling us how much they love Scrivener for iOS, and telling writers who have never heard of Scrivener all about it. We have had over 150 very kind users already give us great reviews on the App Store in different territories. Just: thank you!
23. Share your blogs income + traffic numbers
Prove that a blog in your niche can have reasonable traffic numbers and maybe even be profitable. Bring Google Analytics data to daylight and it's very nice if you provided some analysis in important points, for example a major change in traffic numbers etc. Pat Flynn has done that, why don't you?
24. Answer a common problem
A great blog post is one that can help your audience and what's better than having your whole blog post talk about one problem? If you're a business or a marketer, take one problem that's associated with your industry or product and dissect it and offer a solution.
Warfare Plugins' blog answers an important problem for their audience – how to recover your social share counts if they've been lost.
25. Ask your readers to tweet, like, and share the posts they like
Spreading the word about your blog or posts is important, but sometimes people need a little extra kick to do that, so write a post for that.
26.Research and analyze a topic in your industry
Well written and analyzed posts get great attention. Invest time and grow your followers by that. Many professional bloggers write one post for more than 12 working hours, they invest a lot of time to produce perfect posts.
27.Answer to every single comment personally
Make your readers feel special and honored. It takes only a couple of minutes to answer them personally but you can get new friends, co-authors or even business partners.
28. Show how you failed
Being transparent online can be a challenge for a lot of people. But the thing is, when you show a vulnerable side of yourself people will remember you and believe you more than if you painted a rosy picture of your business and blog.
Neil Patel of Quick Sprout wrote a blog post about why his first business failed. By publishing this post, he can help other marketers and entrepreneurs avoid any mistakes on their business.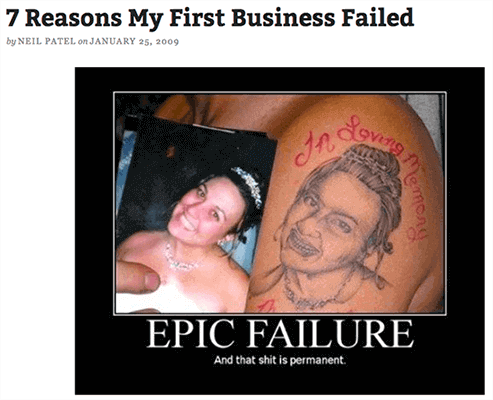 29. Welcome a new team member
For a lot of solopreneurs, adding that first team member is an exciting event. As such, it makes for an engaging blog post and it introduces your new team member to your customers or clients.
For Zao, a WordPress agency, this is what the owner did. He introduced new hire Lizz Ehrenpreis and cited a new chapter in his business.

30.Publish online courses/e-books
If you're an expert in your field, invest time in writing and publishing courses and e-books. Create quality content, and people will be ready to buy it for nice amount of money. When money is not an important aspect, publish the content for free.
31. Do a project or challenge
Marketers and entrepreneurs can use their blog to show behind-the-scenes of their work. One way to show this is with a project or challenge you're doing.
It might be a collaboration project or just a personal one where you're trying something new in a different industry.
Neil Patel started the $100,000 challenge by starting a site in the health niche. Every month he shared the steps he was taking to reach his end goal.
Conclusion
There ya go! A list of #31 blog post ideas for your business blog.
When you use these unique blog ideas, no one can stop you from writing awesome content. Not even the blinking cursor!
Now, go write!
---
---
Your email address will not be published. Required fields are marked *